What are StreamerKit presets?
Presets are easy-to-use chat positions recommended by the LIV team! To use a preset, select one from the drop down in the "Position" tab and hit apply. We also made it possible to put chat in a fixed location (meaning it's not attached to anything).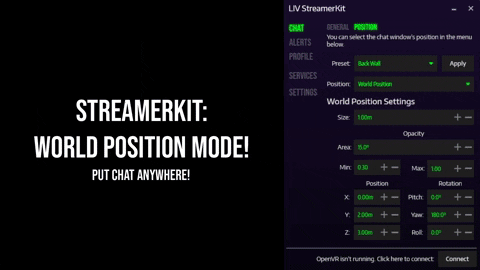 What are StreamerKit profiles?
Profiles allow you to easily save your alert and chat position settings for later use. You can even assign profiles to specific games for auto-switching. Flit between games with poise and grace.
For a head start on setting up your profile, use a preset to set the general location for your chat, then adjust the position and rotation as needed. After that, make sure to set all your alerts to your liking, then name and save the profile.

Auto Profile Switching

After setting up your profiles, you can now assign them to different games under Auto Profile Switching. Select the profile you wish to use in the drop down and hit assign.
Want to change which profile you have assigned to a specific game? Click Clear and select the desired profile and click assign again.
Easy peasy!